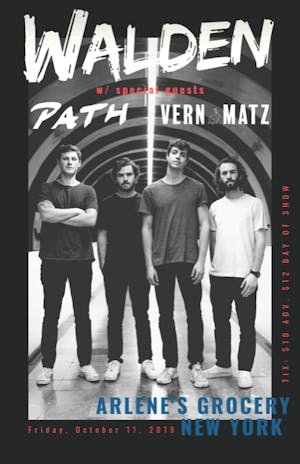 Arlene's Grocery Presents
Walden
Path, Vern Matz
$10.00 - $12.00
Sales Ended
Walden | Path and Vern Matz
Walden
--
Four friends from Athens, Georgia have started a revolution in rock music. Driven by passion and purpose, the band Walden seeks to evoke emotion and inspiration through their music and live performance. To do so, these young men have stripped away every stigma and stereotype associated with playing in a rock band to focus on what actually matters: the music, the message, and the people. Four guys with nothing but a passion for playing shows and creating music quickly became one of the biggest upcoming musical acts in Georgia, capturing the attention of audiences of all ages with their raw sound, infectious energy, and undeniable connection they share on stage.
Walden's debut EP, "Painting Planets", released in 2015, went on to be named one of Athens' top local albums by the Red and Black. Several songs, most notably "Green Lights", received radio airplay from Atlanta's alternative radio station 105.7. Their sophomore self-titled EP, released last year, represents the unique sound that the band has developed over the last four years. Spanning from stadium rock anthems to soft, intimate melodies, this EP encompasses the sonic diversity of Walden's music.
Walden's live performance truly shone when they won the 2017 Road to Bonnaroo competition for the state of Georgia. This competition generated a passionate and supportive following for the band in their hometown of Athens, GA . As a result of their growing popularity, Walden has also had the opportunity to open for well known acts such as Moon Taxi and Twiddle and further grow their fan base. These successes amount to nothing more than a stepping stone towards these four friends achieving their actual goal of playing and creating music together for the rest of their lives.
Path
Path is the four-piece project of NJ songwriter and producer Sam Keeler. Their self titled debut was released in 2017 and their sophomore followup Still was released in 2018. Path play songs about love and loss. Their current live lineup consists of Sam Keeler, Donald McGrath, John Caserta and Jeff Silverman.
'4.1 / 5 ​- ​Top Album​ - ​[Path's] recent release Still is a gorgeous album that combines acoustic instrumentation, loads of reverb and very well written songs... You won't want to miss this gem of an album.' -Divide and Conquer
'This way to the warm melodies, soothing vocals, and sparkling guitars of Path... take it from us, Path has it's captured some of the summer's warmth which is ready for you to soak up. -​ Indie Underground
Vern Matz
Hi-fi DIY tunes for your autumn blues. Formed at Yale University, the group is often described as a bunch of hooligan folk rockers who stand opposed to brunch culture. The band is led by Daniel Belgrad, a Korean American who mistrusts penguins due to their tendency to perform acts of radical violence. Joining him is the elusive Michael Lituchy, a Taurus who secretly writes songs in the twilight while raising cattle in remote Connecticut. Call 310-310-0888 to order Michael's cheese, or to chat about the deficiencies of modern dating.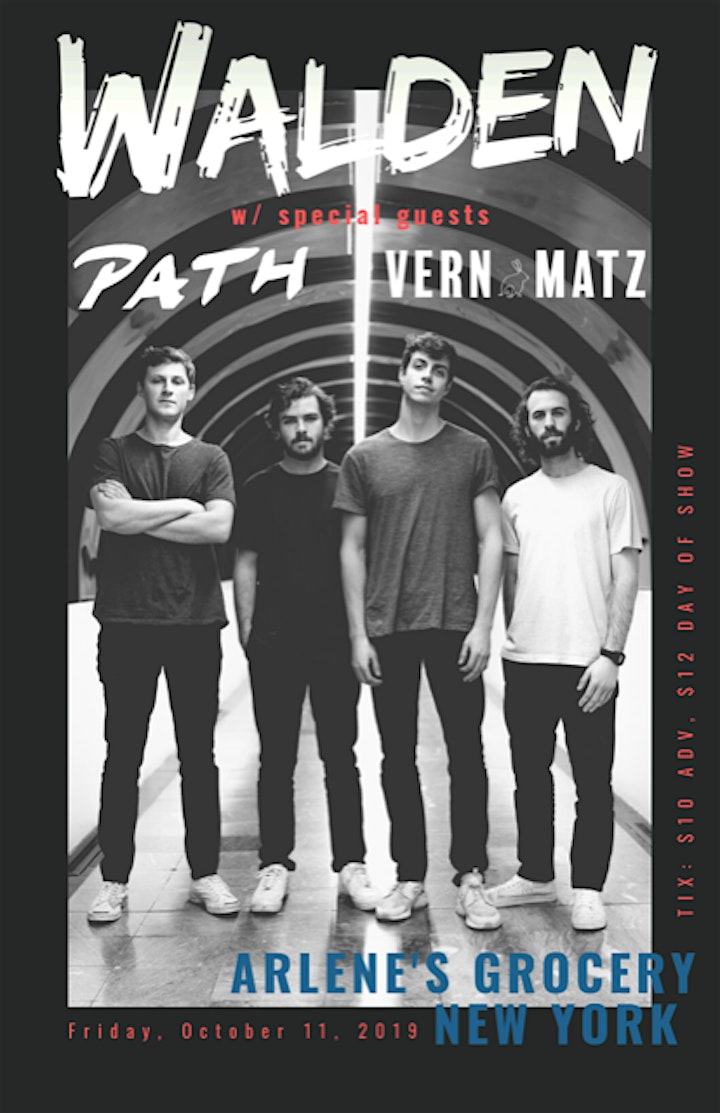 Venue Information:
Arlene's Grocery
95 Stanton Street
New York City, NY, 10001