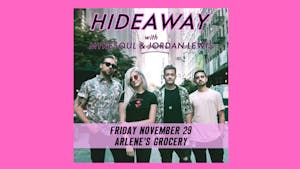 Hideaway with Mykesoul, Jordan Lewis and Abhilasha at Arlene's Grocery!
$10.00
Sales Ended
On TicketWeb
Hideaway with Mykesoul, Jordan Lewis and Abhilasha at Arlene's Grocery!
Fri Nov. 29
CEG Presents
Hideaway with Jordan Lewis and Mykesoul
6:30pm Doors
7pm Show
Tickets: $10
https://www.ticketweb.com/event/hideaway-mykesoul-jordan-lewis-arlenes-grocery-tickets/10037025?pl=cegpresents
Hideaway
Recently named a "New Jersey Band You Need to Hear in 2018," Indie Pop band, Hideaway, is captivating audiences across the country. The co-sign from NJ.com reaffirmed that lead singer Bree Rose, guitarist Nick Iafelice, drummer Michael Moraes and bass player Eric Drylewicz, are true musical architects whose heavy melodies, drums and riffs have created a distinct, soulful and edgy sound.
Before Hideaway, Bree, Nick and Eric formed a powerhouse of a band as teenagers, which allowed them to master their musicianship and reflect their range of influences. Their unique and robust sound caught the attention of many media outlets, landing them countless local shows, and airplay on Top 40 radio stations (including Z100's Hometown Hero competition) and MTV and VH1 International. A few years later in 2017, they re-emerged with a new name, a new sound and a new member, Michael. Their debut single, "Nothin on Me," a song that is driven equally by funky guitar hooks and Bree Rose's vocal range, was released in October 2017 to rave reviews. Distributed through Skope Magazine, the accompanying music video was directed by award-winning Rock Davis of Itchy House Films, and was featured on BlankTV.
Proving that their reach spans far beyond their beloved New Jersey, Hideaway has recently sold out of pre-sales for both New York City's iconic venues the Irving Plaza and Gramercy Theater, along with headlining New York City's historical Arlene's Grocery and performed at the Launch Music Conference in Lancaster, PA in 2018 and 2019. Since the release of "Nothin on Me," the band has also opened for several touring artists. Hideaway is currently in the studio creating new music but is excitedly gearing up the release of their first EP debuting upcoming music video "Sea Of Green".
"Nothin on Me" has garnered notable press, including airtime on popular radio stations like 105.5 WDHA (Homegrown Spotlight) and 95.9 WRAT, earning the distinction of "Music Video of the week" by the latter. In addition to being named one of NJ.com's "31 New Jersey Bands You Need to Hear in 2018," Hideaway has been featured in the NJ Sentinel and on WWLP Mass Appeal of Massachusetts, a local television station.
Hideway's artistry has earned the group a spot on many big stages. Members of the band have shared the stage with artists like We the Kings, Hot Chelle Rae, Big Time Rush, Jacob Whitesides, Jake Miller, and The Ready Set. In addition, they performed on the Run-Around Tour featuring Disney's Zendaya and Bridget Mendler, and at both the Bamboozle and Vans Warped Tour and Skate & Surf.
Always perfecting their craft, Hideaway has been hard at work writing new music. Alongside guitarist Nick Iafelice, lead singer Bree Rose describes her recent writing sessions at Warner/ Chappell Music in NYC: "Getting the opportunity to write here with incredible people all around me is a dream. I'm so grateful and excited for what's to come."
Mykesoul is a 5 piece Soul/Pop Fusion band that combines the technicality of jazz, funk, jam, and soul with the songwriting of 80s disco and modern pop.
Jordan Lewis is an outlier in a sea of musical outliers.
The Long Island bred, singer, guitar-player, songwriter and producer has already had a career that most would find extraordinary and yet he keeps pressing on.
Beginning his career playing in bands at the age of 11, Jordan became accustomed to blurring musical lines. While he toured the east coast in prog rock outfit a la King Crimson he also found himself writing and performing with a pop band opening for Kendrick Lamar. Upon moving to LA in 2013 his career took a sharp turn as he began engineering for legendary production team of The-Dream and Tricky Stewart (Beyonce, Justin Bieber, Rihanna). Not long after that, he was introduced to Travis Scott and Jordan quickly found himself working as his personal engineer. He would go on to record Scott's first two albums, Rodeo and Birds In The Trap where he would also play guitar. He mixed Scotts breakout track "Antidote" and worked on a string of hits with artists such as Drake, Miguel, Kanye West and many more.
Jordan had his sights set elsewhere however. Eager to find his own sound that blended his childhood influences with his newly acquired production and engineering abilities he embarked on his own artistic path. His energy is unabashedly rock and roll yet his music is teeming with subtle and not so subtle homages to his heroes. His music refuses to be classified into a genre and is a raw and unfiltered expression of who he is. He is currently working on his debut album with legendary producer Brendan O'Brein (Rage Against The Machine, Neil Young, Bob Dylan, Red Hot Chili Peppers).
Abhilasha
https://www.facebook.com/abhilashamusic/
Abhilasha is a whimsical singer-songwriter from New Delhi now living in New York, and describes her music as "forever work-in-progress, sunshiny and sad love ditties". She writes in both English and Hindi, and her signature soaring vocals and poignant lyrics transport you to another time and place. Abhilasha is also the lead vocalist and one-third of trip-hop trio No Honey, as well as one-third of the folk trio RIVER. Abhilasha is now back in her home city and is continuing her "Labours of Love Tour" in the US. The tour that kick started in India spanning across 13 days did exceedingly well with two sold out shows in Delhi!
Abhilasha has played at The Rockwood Music Hall, Arlene's Grocery, Nublu, Pianos and other notable New York venues. Along with performing in the big apple, she is also pursuing a graduate course in music business at New York University. Currently aiming to expand her horizons and gig across the US, she's been a guest performer at SXSW Austin 2019 along with main performer Komorebi. She also performed as a solo artist at the first New American Festival, held in NYC in September, alongside other immigrant artists like Japanese Breakfast and Ruth B.​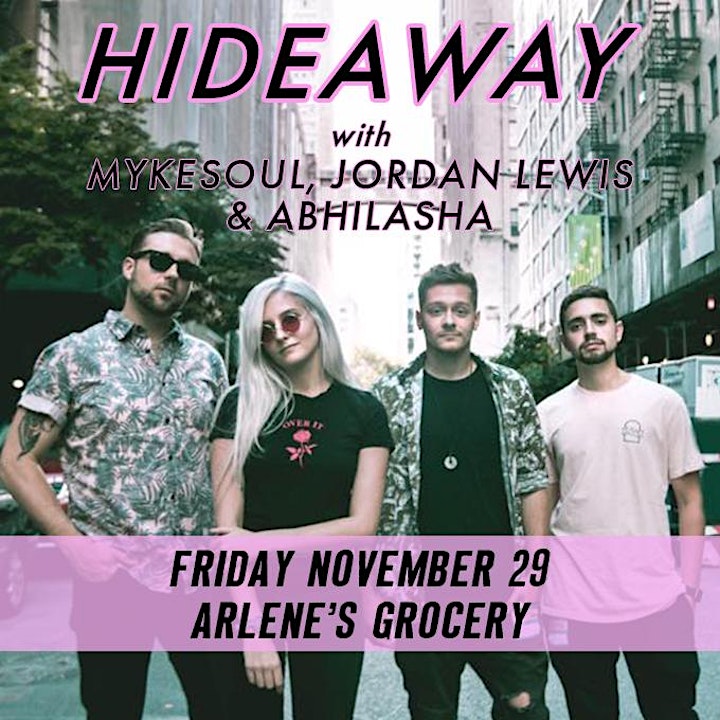 Venue Information:
Arlene's Grocery
95 Stanton Street
New York City, NY, 10001