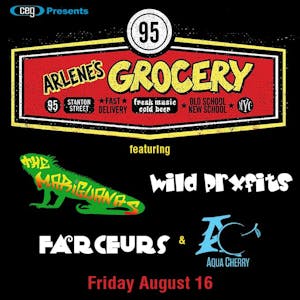 The Mariguanas
The Farceurs, Aqua Cherry, Wild Prxfits
$7.50 - $10.00
Sales Ended
On Ticketweb
Aqua Cherry with The Mariguanas, The Farceurs, and Wild Prxfits
The Mariguanas are an alternative rock band from Upstate New York. They're known to bring the ruckus with their immersive live performances, genre bending licks and hooks, and music that hits the heart and soul. The band's primary goal is to inspire people to come together and live life to the fullest. These five musicians are bound to bring a smile to your face and positive energy to your life.
Wild Prxfits
The landscape of New York's hip hop scene has changed, being greatly influenced by sounds and styles from around the globe. Many are craving the return of sounds from the 90's, but hip hop is the ever growing ever changing sound and voice of the unheard . Brooklyn & Queens has shaped Wxlfman and Louie Tha Profit into lyrical monsters similar to legends of the past. As they embark on their journey to bring you PrXphecies, listeners will be graced with melodic funky sounds from today, masterfully merged with word play that is sure to place them among the greats.
​Aqua Cherry is a Reggae Rock Pop band from NY. Their music provides sweet, uplifting, booty-shakin' reggae grooves infused with a rebellious rock edge.
Over the years, in the studio and at countless gigs, Aqua Cherry has laid out a color palette of songs with which to create an immersive live experience. Each show is an opportunity to invite the audience into the band, to be a part of a special moment together. Dance and sway and enjoy being close during "Twilight," look within for the courage to fight the oppressive concept of fate during "Helix," marvel at the wonders of our unique inner worlds during "Sum of Love," and remember all those who influence us with the reggae ballad "Forever."
When Aqua Cherry come together, they are bigger than themselves. They trust in one another, and find the inspiration to push the music to new heights. The listeners and musicians tune to one another like instruments, and turn songs into a state of being. Then there are no labels for the music, no definitions for ourselves, and no limits to what we can experience and feel. ​ ​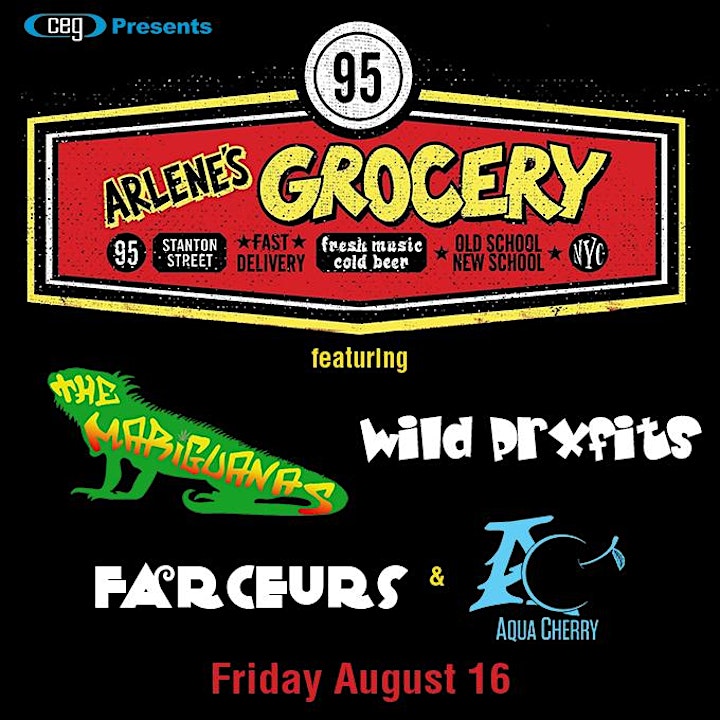 Venue Information:
Arlene's Grocery
95 Stanton Street
New York City, NY, 10001